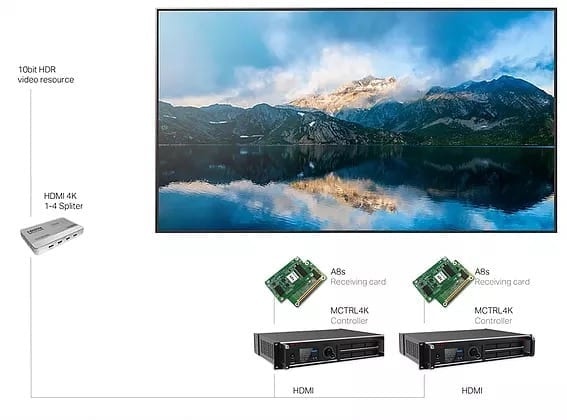 Everyone in the LED industry is now aware of the industry's push towards fine pixel pitch displays. The improved resolution has a huge effect on the impact of the display, and this trend is being widely embraced, especially for applications using large displays such as sports stadiums and concert venues. However, fine pixel pitch puts a larger demand on the receiving card, as this higher pixel count requires a greater loading capacity.
To meet the demand for a more powerful receiving card, NovaStar developed the A8s and A10s receiving cards. We wanted to make a card that was small and stable, but first and foremost had the loading capacity to handle all the fine pitch displays being utilized across the industry.
The original MRV receiving cards had a maximum loading capacity of 256×256. The A8s and A10s both have a loading capacity of 512X512, ensuring that a smaller number of receiving cards can still load a display with fine pitch.
For applications needing excellent image quality, power is everything. The A8s or A10s, when paired with the MCTRL4K controller, are uniquely suited to these applications. The MCTRL4K supports 4K2K60, which combined with the power of the A8s/A10s receiving card, makes it easy to achieve a stunning display. Best of all, the MCTRL4K and A8s/A10s both fully support HDR for the most vivid and immersive viewing experience currently available on the market.
Whether used alone or paired with a controller like the MCTRL4K, the A8s and A10s are an excellent choice for any applications where large loading capacity is required.